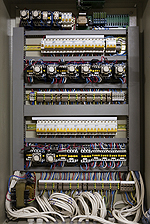 At Industrial Measurement & Control we are dedicated to lowering your production and labor costs through manufacturing automation and machine control systems integration. Our expertise ranges from 24/7/365 service and repair to PLC programming, to integration of your manufacturing floor data within your enterprise resource planning software.
Industrial Measurement & Control brings over 20 years of experience designing and installing systems for manufacturing automation equipment. We service a wide range of industries including:
Bringing new life and increased reliability to older equipment through integration of new controls
Improving production planning, inventory control, quality control and other enterprise profitability objectives by integrating control systems to information technology (IT) systems
Enhancing Human Machine Interface (HMI, MMI, OIT) with advanced graphic user interfaces
Manufacturing automation helps reduce labor cost by lowering the required number and skill level of operators
Reducing equipment cycle time
Facilitating quality control and industry certification through process and machine trending and production data archive systems
Developing specific purpose machinery
Repairing and trouble shooting electrical and pneumatic systems
Our service on all makes of PLCs, servos, and drives (VFDs) - We're available on holidays and weekends to fit your schedule
Let us introduce you to Industrial Measurement & Control Automation and Controls' proven ability to increase productivity and reliability through systems integration.