Industrial Measurement & Control is ISO/IEC 17025:2005 accredited Laboratories that comply with this International Standard also operate in accordance with ISO 9001 or ISO 9002. Expert Calibration for your Multi- Vendor Environment
Temperature - Thermocouple, calibrators, thermometers, thermocouple, optical.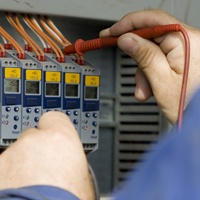 RTD Pressure/Vacuum - Pressure gauges, pressure transducers.
Mass - Weight sets, scales, electronic.
Electrical - Volts, milliamps, frequency, amps, air.
Force - Force gauges, tensiometers, force transducers.
Level - Pressure, radar, sonic.
Ph - Conductivity - Speed, humidity, flow, air, water.
Typical Manufacturers - Honeywell, Yokogawa, Endress Hauser, West, Eurotherm, Bailey, General Electric, Leeds Northrup, Omega, Allen Bradley, Semiens, Thermoelectric, ABB.
Electrical / Electronic Capabilities
IMC Control offers complete metrology solutions for calibration and repair of electrical instrumentation to meet your most stringent documentation and quality system requirements.
Electrical Standards - Meter calibrators, standard cells, zener references, standard resistors, standard capacitors, standard inductors, LCR meters.
Signal Sources - Signal generators, sweep oscillators, frequency synthesizers, function generators, pulse generators, power supplies, frequency oscillators.
Fibre Optic Instruments - Light sources, optical power sensors, optical attenuators, optical spectrum analysers.
Digital / Analogue Meters - Voltmeters, ammeters, ohmmeters, wattmeters, digital multimeters.
Oscilloscopes - Analogue, digital, storage, sampling.
Typical Manufacturers - Hewlett Packard, Fluke, Tektronix, Wavetek/Datron, Boonton, General Radio, Electro Scientific, B & K Precision, Omega, Keithley, Lambda.